The Ultimate Housekeeper: North Shore Homes Magazine Profile
Published in North Shore Home Magazine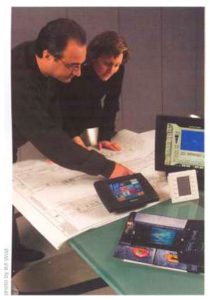 Running a household can be a complicated process when there are multiple switches and remote controls needed to operate the lighting, audio/video systems, HVAC and even the draperies. Remembering which remote control is used for a particular process can become confusing. Even worse is misplacing the remote when you need it the most. Media Designers in Kildeer makes the process of managing just about any electronically controlled function in a home hass.le free by integrating it all into one system.
Homeowners operate the system using a wireless visual touch screen. For convenience sake, the touch screens can be installed in every room of a house. When a homeowner isn't home, he can gain access into the system using secure codes via the Internet. He can turn his lights on, open the draperies, set the air conditioning to a cool 64 degrees and pre-heat the hot tub for his return home. "Because electronics has become more of a cutthroat industry and a big commodity, we're creating solutions: says Lou Santello, owner of Media Designers. "It's not all about buying the boxes."
The firm is also capable of monitoring from remote locations residential and commercial properties for security purposes.
Lou's philosophy is, "lf it's not easy to use, don't buy it." There are so many different technologies on the market that Lou says customers sometimes find it confusing. His job is to clear up that confusion and show them their options.
He holds initial consultations in clients' homes. He brings with him a variety of equipment to give them an idea of what's available. Later on, he takes them to his 5,000-square-foot showroom, which is actually his home, so they can see the most up-to-date technology in action. When all is said and done, he puts packages together for clients based on their needs and their budgets.
Lou sold electronics for other retailers before founding Media Designers in 1990. "There are retailers out there dabbling in custom audio/video and it's not the same: says Lou. "It's not personalized. It's not what we do."